Stowe Dairy Farm Events
Christmas Season 2018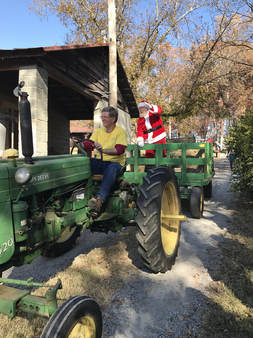 Santa arriving on the farm Christmas 2017.

Special Events
​Lighting of the Farm/Christmas Caroling Saturday, November 17 7:00pm
Using colonial style cressets to illuminate the farm, visitors will learn tidbits of historical information about farm buildings on our small family farm from 1926 to the present as they carol around the farm. The night will culminate with the lighting of the first Christmas tree.
Santa's Schedule to be determined...





---
Down on the Farm: Summer Farm Camp for Children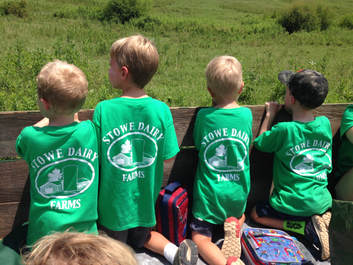 Campers exploring the fields.
Looking for a different summer camp experience? Spend time down on the farm! Children will help with daily farm chores like feeding the animals and collecting eggs, planting and harvesting produce from the farm garden, learning to enjoy the outdoors in the country, playing fun farm games, making crafts, and baking bread in the farm kitchen! These activities and lots of other unique experiences are waiting for your child Down on the Farm!
Our 2018 camp goes from the last week in May through the second week in August.

SUMMER CAMP INFORMATION RELEASED JANUARY 15
REGISTRATION BEGINS JANUARY 22


---
Farm Visits/ Field Trips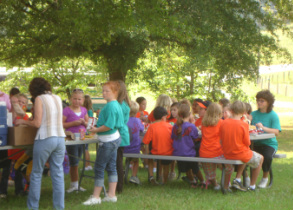 Making a farm craft to take home!
Farm field trips
are being scheduled for 2018.
As former educators, we will work with you to choose a farm focus such as
Spring on the Farm, Life Cycle of Plants and Animals or Revisiting a Dairy Farm.
Other options are also available.
School groups, home school associations, church groups, scouts and seniors please give us a call to plan a special time just for you.
---
Cooking Sorghum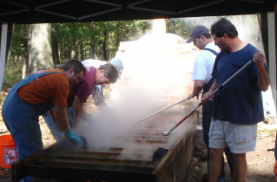 Biscuits and molasses, anyone?
Late September to early October when the cane is ripe will be the time to squeeze sorghum juice and cook it down to a golden brown syrup known as sorghum syrup (molasses). Check back in early fall on our Facebook page for more information.
---